In the next part of our Telling Our Stories series (which reminds us all of the power that we can have to change hearts and minds by highlighting online messages of equality), we look at the moving and personal speech by 19-year-old Zach Wahls, who speaks eloquently about his two lesbian mothers and the strength of his family: Two Lesbians Raised A Baby & This Is What They Got.
Zach Wahls, a teenage University of Iowa student, spoke about the dignity and worth of his family during a public forum on House Joint Resolution 6 in the Iowa House of Representatives. Wahls has two mothers and came to oppose House Joint Resolution 6: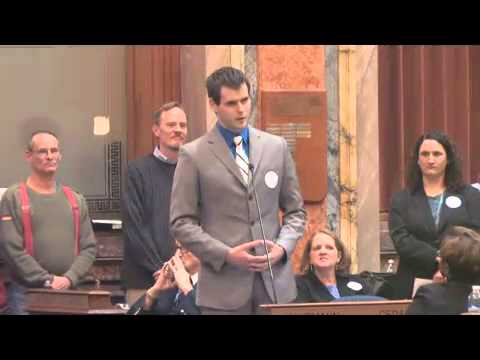 Wahls took head-on the question of whether or not a gay couple can successfully raise a child and what it means to be a family:
"I was raised by a gay couple, and I'm doing pretty well," Wahls said, "If I was your son, Mr. Chairman, I think that I would make you incredibly proud.

Our family really isn't so different than any other Iowa family."
While this speech was made back in February, the video has recently begun making the internet rounds again with its timeless message of family, love, commitment, and equality, garnering millions of views in less than a week.
Wahls continues to tell his story in an upcoming book called "My Two Moms: Everything I Needed to Know About Gay Marriage I Learned in Boy Scouts."
The Telling Our Stories series highlights people that have used new media, like youtube videos or blogs, to tell stories that have moved virally through the social sphere of influence to make an impact. Share these stories, use them as discussion points with those in your life, and suggest other videos that have moved you in the comments section. Be sure to check out some of our other posts in the Telling Our Stories series:
- "It's Time" for Marriage Equality
-"Two Lesbians Raised A Baby & This Is What They Got"
-"NOISE" An Anthem for Equality
-Second City's Rick Perry Spoof: "Weak, man."