(Waymon Hudson for RedEye)
In the next part of our Telling Our Stories series (which reminds us all of the power that we can have to change hearts and minds by highlighting online messages of equality), we look at Broadway leading man Gavin Creel's new LGBT activism anthem called "Noise."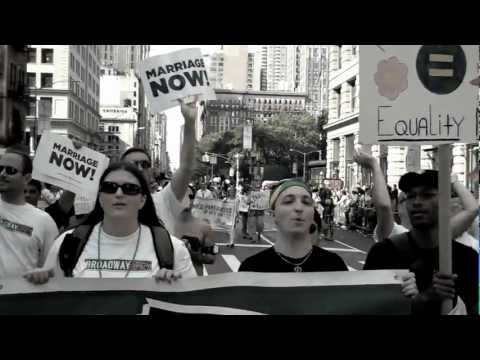 "Gay rights are human rights, and if we want things to change, we all need to take action. We can't stay frustrated, quiet and complacent. We have to be willing to make some noise. This song aims to get us all fired up: gay, straight, lesbian, bisexual, transgender, and anyone in between. I'm ready to welcome in a new age of full legal protection in all matters governed by civil law in all 50 states for ALL citizens, and I believe we will get there. But the men and women who have the power to change the laws so that we are all represented and protected equally need to hear from us, NOW. This song calls out to people who believe in equality, regardless of sexual orientation or identity; people who are ready to take action, use their voices and be heard. Until we have equal rights all across this great country, we will play it as long and as loud as we have to. So, let's go….

Get the tune, turn it up, and let's make some NOISE! "- Gavin Creel, 2011
Gavin Creel is one of the founders of Broadway Impact, which works closely with Broadway Cares/Equity Fights Aids. Creel and Broadway Impact have led marches, meetings, rallies, and protests across the country. Broadway's Hair, for which Creel was nominated for a Tony, shut down for a full day so that the cast could go to march and perform at the National Equality March in Washington. Creel uses music to tell the story of the struggles for equality and brings a message of activism to a whole new audience through his rousing tunes.
Get the song on iTunes here: http://itunes.apple.com/us/album/noise-single/id486622573
100% of proceeds go to help Broadway Impact educate, inspire, and connect communities all across the country with one common goal: EQUALITY NOW!
The Telling Our Stories series highlights people that have used new media, like youtube videos or blogs, to tell stories that have moved virally through the social sphere of influence to make an impact. Share these stories, use them as discussion points with those in your life, and suggest other videos that have moved you in the comments section. Be sure to check out some of our other posts in the Telling Our Stories series:
- "It's Time" for Marriage Equality
-"Two Lesbians Raised A Baby & This Is What They Got"
-"NOISE" An Anthem for Equality